As a fan of cellulosic fibers with a focus specifically on sustainably sourced tree fabrics with hypoallergenic properties, over the last year, Naia has been presented to me as the sustainable fashion brand to watch, and I have.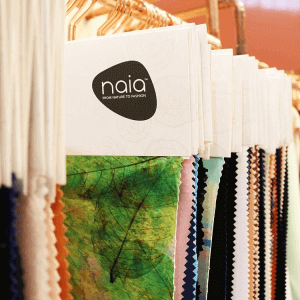 First, I sighted Naia at REMODE, an incredible gathering of sustainable fashion thought leaders from around the world. I made note that one of Naia's (much needed and beautifully exe
cuted) fabrics fell under the silky, drapey woven intimates category. Yet I knew it would take "some digging" for me to be convinced that a sustainable satin was as sustainable as they claimed. 
Second, a start-up brand doing US-based sourcing research posed the question to me, "I found this sustainable fabric brand Naia within Eastman Chemical Company, that seems to be wonderful; however, Eastman is a chemical company and they use cellulosic acetate? Isn't acetate the smelly stuff used to remove nail polish? Is it toxic?"

Third, Leonie Meier from the UN Forestry Department suggested I reach out to them. 
And finally, Diviya Loomba from Eagle Fabrics, which has been a leader in launching sustainable fabrics, boasted about Naia's certifications. 
So, I reached out to a bioengineer friend who has access to chemical toxicity verification websites. His conclusion was this: acetate used as a solvent remains in its natural state, can be used to extract fibers, and leaves zero to trace amounts of acetate, which do not have a toxic effect at minimal costs. I also asked him if acetate could be reused, and he verified that acetate could be purified back to its original state through distillation, yet often remains in its original state and can be used again. 
I've had one conversation with a Naia employee and look forward to diving deeper. What I can share with you right now, which is public information, is the level of certifications Naia currently has listed below.
Source of Origin: FSC (Forest Stewardship Council) and PEFC (Programme for the Endorsement of Forest Certification) – Responsibly sourced from sustainably managed pine and eucalyptus forests and plantations.
Safe and Environmentally Sound Chemicals: Okeo-Tex Standard 100 – Produced in a secure closed-loop process where solvents are recycled back into the system for reuse
A Low-Impact Manufacturing Process: Higg Index – Specifically focused on a low tree-to-yarn carbon and water footprint
Return to Nature: TUV Austria "OK Biodegradable" certification for freshwater and soil environments.
Oh yeah, Naia™ fabrics are 25% cooler than polyester and dry quickly too. Soft, silky, and not sweaty. Woo hoo for the win for the sustainable fashion brand!